Heroes & Villains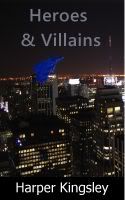 As the superhero Starburst, Vereint received only derision and mockery. All his heroic endeavors resulted in nothing but humiliation. No matter how hard he tried, the world could only see him as a joke.
Eventually he was pushed into the life of a supervillain. He changed his name to Darkstar and began his reign over Megacity. He was unstoppable… yet somehow he managed to fall into myth and legend.
"Heroes & Villains" details the budding relationship between Vereint Georges and Warrick Tobias as they explore the idea of a superhero and a supervillain falling in love. It is a story of friendship, affection, romance, and super battles.
Read "Heroes & Villains"
https://www.smashwords.com/books/view/63794